---

From ATHEISTS IN FOXHOLES
MAAF maintains a roster of Atheists in Foxholes, just in case there are any rumors that we don't exist. The next time you hear someone repeat that old myth, just send them here to see how atheists have served honorably in combat – always have, always will.
Besides the MAAF members below, keep in mind atheists in foxholes whose stories have been in feature stories and documentaries: Pat Tillman, Afghanistan war Army Ranger and football player, Hans Kasten, WWII POW leader, Phil Paulson, Vietnam Veteran and activist, Kurt Vonnegut, WWII POW and author, Ted Williams, WWII Veteran and baseball player, Ernest Hemingway, WWI Vet and author, Sherwin Wine, Founder of Humanistic Judaism, Major Sidney Excell, who arrested Heinrich Himmler, Bob Kerrey, former Governor and Senator, Navy Seal, and Medal of Honor recipient.
If you are in Washington, DC, you may want to honor Atheists in Foxholes with a visit to Arlington Cemetery. MAAF provides a Cemetery Tour to known gravesites. Also consider visiting the Monument to Atheists in Foxholes in Talladega, AL.
This is not a member list. Member information is strictly confidential unless a member explicitly requests public recognition. If you would like to have your name listed here on this page, Join MAAF for a template and instructions.
The list of Atheists in Foxholes is over 200, starting with the most-recently submitted.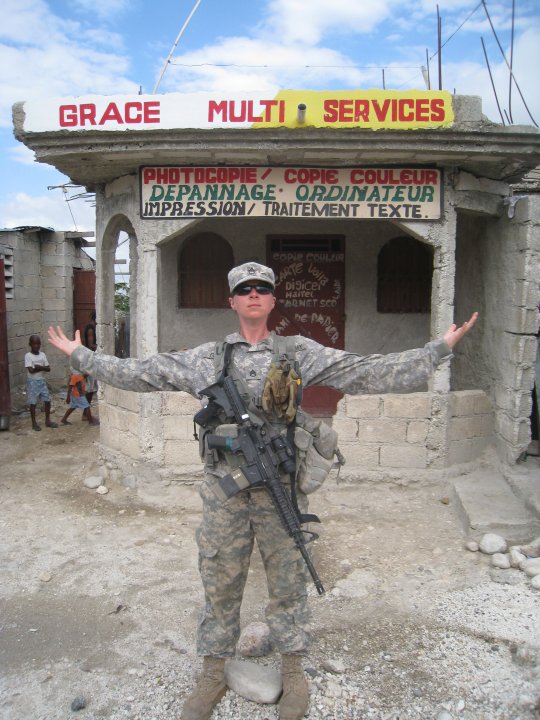 Army Staff Sergeant Grace Greer
Point of Contact
Personal Site
Dates of Service: July 2002 – present
Decorations: Army Achievement Medal 2, Army Good Conduct Medal 3, National Defense Service Medal, Korean Defense Service Medal, Iraq Campaign Star 2, Global War on Terrorism Service Medal, Humanitarian Service Medal, Armed Forces Service Medal, NCO Professional Development Ribbon 3, Army Service Ribbon, Overseas Service Ribbon 3, Drill Sergeant Identification Badge
Tours of duty: Iraq Dec 2007-March 2009, Haiti Jan 2010-June 2010
My journey as a Foxhole Atheist has not been an easy one. I didn\'t always even identify myself as an Atheist because I didn\'t want to be bombarded with the word of god nor was I prepared to explain it. I had a profound moment in WLC when the welfare of my 1059 (graduation certificate) was held over my head during a graduation practice. We were going over all of the key movements we would make in unison, stand up, sit down, let us pray. I stayed at the position of attention, it caused the SGLs to question me and then insist that I crossed my arms in front of me and bowed my head just for "uniformity purposes". Being young, uneducated and not fully prepared to defend my case I caved in for graduation practice. For the actual ceremony I stood tall and did not bow my head. I rightfully completed the course and earned that 1059. Now, I am at Joint Base Lewis McChord and looking to create an alternative to the frequent prayer breakfasts and chaplain activities. I would like to find other Foxhole Atheists to assist in the mentoring and education of the future leaders of our military. (excerpts taken from Featured Foxhole Atheist site (see "personal site" link above)
- See more at: http://militaryatheists.org/atheists-in-foxholes/#sthash.rHu6vsSS.dpuf